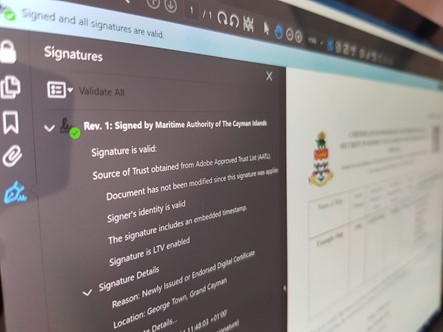 GEORGE TOWN, Grand Cayman
Embracing a new strategic direction for one of the core functions of its business, the Cayman Islands Shipping Registry (Cayman Registry) is now making electronic statutory certificates available to its ships and clients.  
Lead Surveyor Godfrey Johnson has been at the forefront of the Cayman Registry's drive to make the transition to electronic certificates that meet the high security standards demanded by the International Maritime Organization (IMO). Working closely with software partners PDMS, Cayman Registry can now offer their clients a full suite of statutory certificates that meet the demanding standards of IMO's Guidelines for the Use of Electronic Certificates (FAL.5/CIRC.39/Rev. 2).
To securely prove the integrity of the digital signatures applied to all electronic certificates, a "trusted identity", hosted and validated under the latest European and industry standard, eIDAS, is incorporated in every electronic certificate issued.
Verification of every electronic document issued by the Cayman Registry will be available at all times via the online verification portal.   
Client decision journeys are evolving, and client outreach has shown a keen interest to move to digital, especially during the COVID-19 pandemic when logistical challenges were exacerbated by lockdowns across the globe.
The roll out will be global across all the Cayman Registry's clients in the coming months.
For more information see our website and Guidance Note 06/2021
- ENDS -