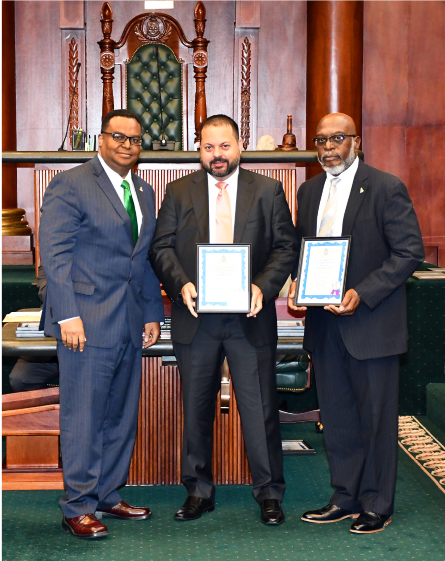 L - R: MLA Chris Saunders, Kenrick Ebanks, Philip Barnes
GEORGE TOWN, Grand Cayman
On 27 August 2020, the Maritime Authority of the Cayman Islands (MACI) was presented with Unqualified Audit Opinion Awards for 2018 and 2019 financial years by the Public Accounts Committee (PAC) for achieving an unqualified audit for these periods.
On hand to receive these awards where Global Director Commercial Services, Kenrick Ebanks and Financial Controller, Philip Barnes. They were presented by MLA Chris Saunders during a ceremony in the meeting chamber of the Legislative Assembly.
"These Unqualified Audit Opinion Awards are a testament to the hard work and diligence of our finance team. They demonstrate our continued efforts to uphold the highest quality of work and our commitment to ensuring compliance with the various financial regulations, policies and procedures along with upholding best practice standards." said Mr. Ebanks.
Mr. Barnes expressed his thanks to all involved, "Our Finance team has worked hard, and these awards are recognition of that hard work. I would like to thank them for all their efforts maintaining the quality of MACI's financials." he said.
- ENDS -